Sept.12 at Linz Opera/Ars Electronica!
Opera Linz and ARS ELECTRONICA FESTIVAL Linz festival got it right! They invited our electronic opera, as we like to call it, to the Linzer Kammerspiele. Looking forward to Linz
PS: And Tallinn and Tartu in Estonia upcoming … in November… stay tuned
Thanks again to KUKA company for their great support!
Synopsis
Mysterious circumstances impeded the legendary Russian filmmaker Andrei Tarkovsky creating his eighth film. In this 'electronic opera', we follow Tarkovskij as a fictional character for the first time in search of a script about nature and human existence in a world dominated by digital technologies.
Review: "perfect for pandemic times" – The Standard (Austria)
"Tarkovsky – The 8th film is a music theater piece that deals with a major future topic: artificial intelligence and virtual reality. And it is a music theater piece that fits into our pandemic present in a ghostly visionary way: a work with only one actor, video projections and a handful of musicians." (Der Standard, Stefan Ender, October 4, 2020)
Perfekt für pandemische Zeiten
Tarkovsky – Der 8. Film ist ein Musiktheaterstück, das ein großes Zukunftsthema behandelt: künstliche Intelligenz und virtuelle Realität. Und es ist ein Musiktheaterstück, das auf gespenstisch visionäre Weise in unsere pandemische Gegenwart passt: ein Werk mit nur einem Darsteller, zugespielten Videoprojektionen und einer Handvoll Musiker. (Der Standard, Stefan Ender, 4. Oktober 2020)
see also Blog-Posts: About the First Performance in Vienna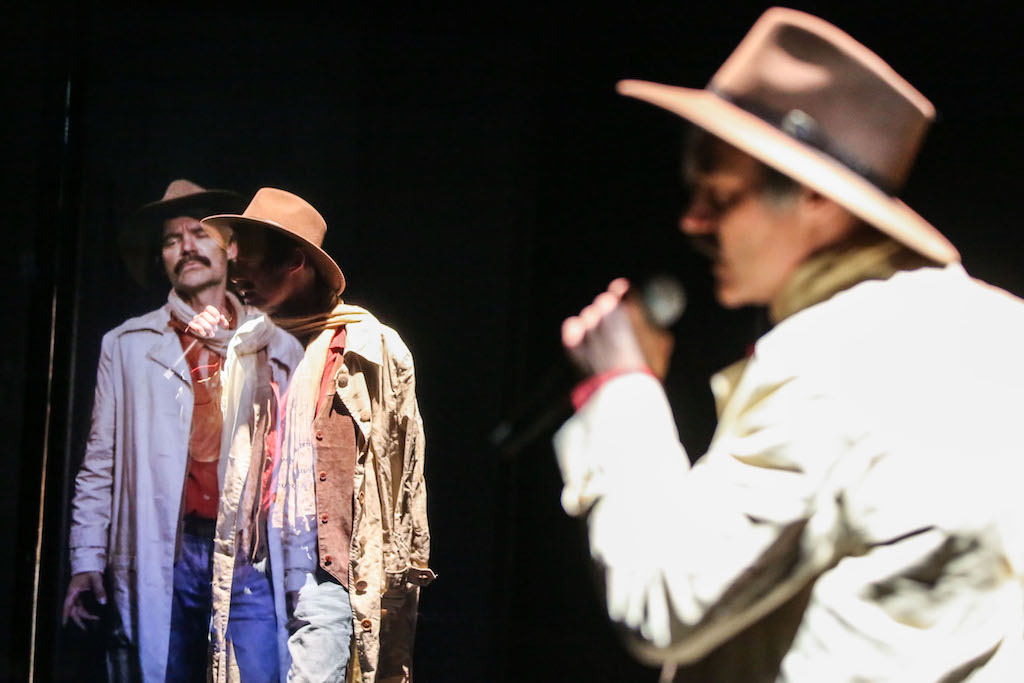 ---
Project Presentation in Tallinn
On December 11, 2019 we had a presentation to press and media in Tallinn, with thanks to Eesti Kontsert, Heili Vaus-Tamm. Some media coverage here (translated to German from Estonian). Scroll down for some great photos of our team, the phantastic five … musicians/creators/composers!
Eine elektronische Oper zu Tarkovskys achtem, inexistenten Film
esti Päevaleht / DELFI TV
KULTUR 11. DEZEMBER 2019
Die Aufführung der elektronischen Oper "Tarkovsky. Der achte Film "wird nächstes Jahr bei PÖFF in Estland stattfinden.
Die kreative Komposition des Werkes umfasst Thomas Desi, Opernautor und Regisseur, Gilbert Handler, Schauspieler-Sänger, Taavi Kerikmäe, Komponist-Musiker, Ekke Västrik und Tarmo Johannes. Die elektronische Oper erzählt die Geschichte des achten vermissten Films des legendären Filmemachers Andrei Tarkovsky. Der fiktive Tarkovsky lebt in einem Spiegelraum, in dem er nur durch einen Roboter mit der apokalyptischen Außenwelt verbunden ist. Laut der Beschreibung gibt es auch einen Ort im Krankenhaus (Tallinn), an dem Tarkovsky arbeitet (ein echter Tarkovsky kam während der Dreharbeiten zu "Stalker" ins Krankenhaus in Tallinn).
https://tv.delfi.ee/uudised/epl/video-elektroonilise-ooperi-tarkovski-kaheksas-film-esitlus?id=88351379&jwsource=cl
Tarkovsky wird zum Protagonisten einer Oper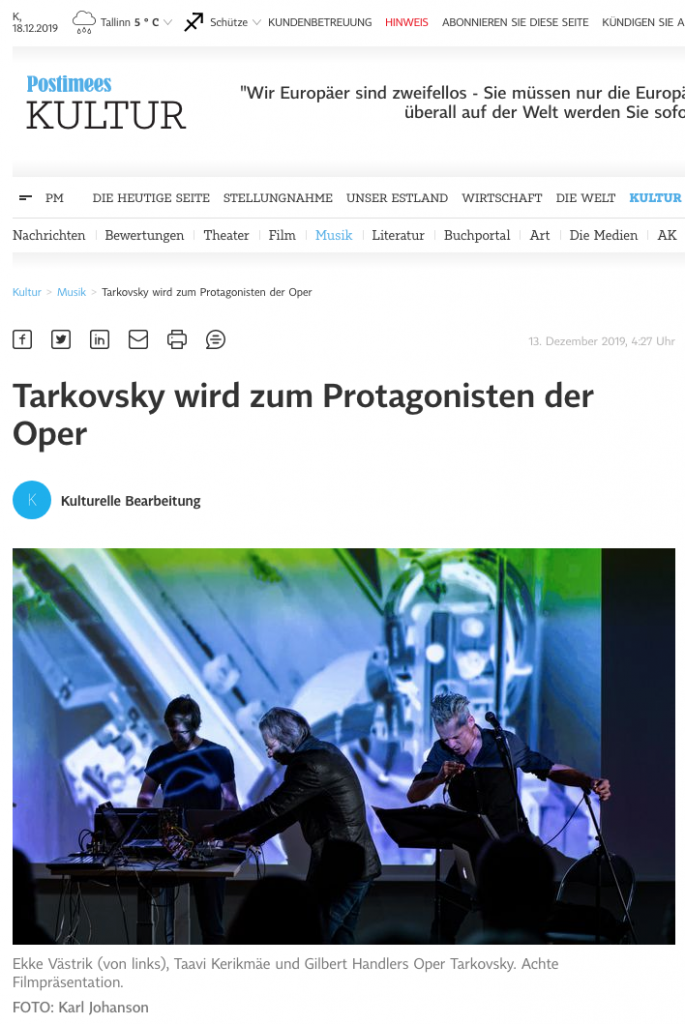 Auf dem Black Nights Film Festival 2020 wird eine moderne elektronische Oper "Tarkovsky. Der achte Film ", inspiriert von dem letzten ungemachten Film des legendären Regisseurs, aufgeführt werden. Bei der Präsentation am 11. Dezember wurden Fragmente der Oper von den Komponisten-Musikern Taavi Kerikmäe, Tarmo Johannes und Ekke Västrik sowie dem Schauspieler-Sänger Gilbert Handler aufgeführt. Die Entstehungsgeschichte wurde von Thomas Desi, dem Autor und Regisseur, präsentiert.
Andrei Tarkovsky, der bereits unheilbar krank ist, hat unerwartet die Möglichkeit, einen weiteren Film zu drehen, obwohl vorhergesagt wurde, dass er in seinem Leben nur sieben Filme drehen kann. Die Introspektion des Regisseurs auf der Grundlage dieses Vorschlags wird in naher Zukunft stattfinden, wenn Roboter mit virtueller Realität und künstlicher Intelligenz zu einem festen Bestandteil des Alltags geworden sind. Auch Tarkovsky hat sich mit einem Virtual-Reality-Schild umgeben, unterhält sich mit einem Chatbot-Mädchen und interagiert bei alltäglichen Aktivitäten mit einer helfenden Roboterhand.
Eine Oper, in der sich Träumerei mit Realität vermischt, wirft Fragen nach Verantwortung und Gewissen auf, aber auch nach der Integration von Robotern in die menschliche Welt und den damit verbundenen ethischen Fragen.
Laut Desi aus Österreich widmet sich Tarkovskys Werk ewigen Fragen wie dem Sinn des menschlichen Lebens und dem, wozu Kunst dient. "Es hat mich ebenso inspiriert wie die Tatsache, dass Tarkovsky in dem Film Stalker genau hier in Tallinn ist."
In der Oper wird auch ein Roboter der deutschen Firma Kuka AG zu sehen sein. "Roboter Kuka ist ein ziemlich guter Schauspieler und hat bereits an vielen kulturellen Projekten teilgenommen", sagte Desi.
Laut Tiina Lok, der Leiterin des BNFF, war sie von dem, was sie in der Präsentation gesehen hatte, wirklich überrascht. "Ich hoffe, es wird mehr über diese Produktion in Europa gesprochen, nicht nur in der Musikgemeinschaft, sondern auch in der Filmgemeinschaft", sagte sie.
"Tarkovsky. Der achte Film" wird im September nächsten Jahres in Wien uraufgeführt. In Estland wird es im November im Programm des Black Nights Film Festivals gezeigt.
Im vergangenen Jahr erreichte das Projekt auch das Finale des großen internationalen Musiktheaterwettbewerbs FEDORA.
Die Oper wird in Zusammenarbeit mit dem Estnischen Konzert, den Musiktheatertagen Wien, dem Black Nights Film Festival und der Roboterfirma Kuka AG fertiggestellt. Dank der Unterstützung des Kulturministeriums.
(automatische Übersetzung aus dem Estnischen)
Loe lähemalt: https://kultuur.postimees.ee/6848996/tarkovskist-saab-ooperi-peategelane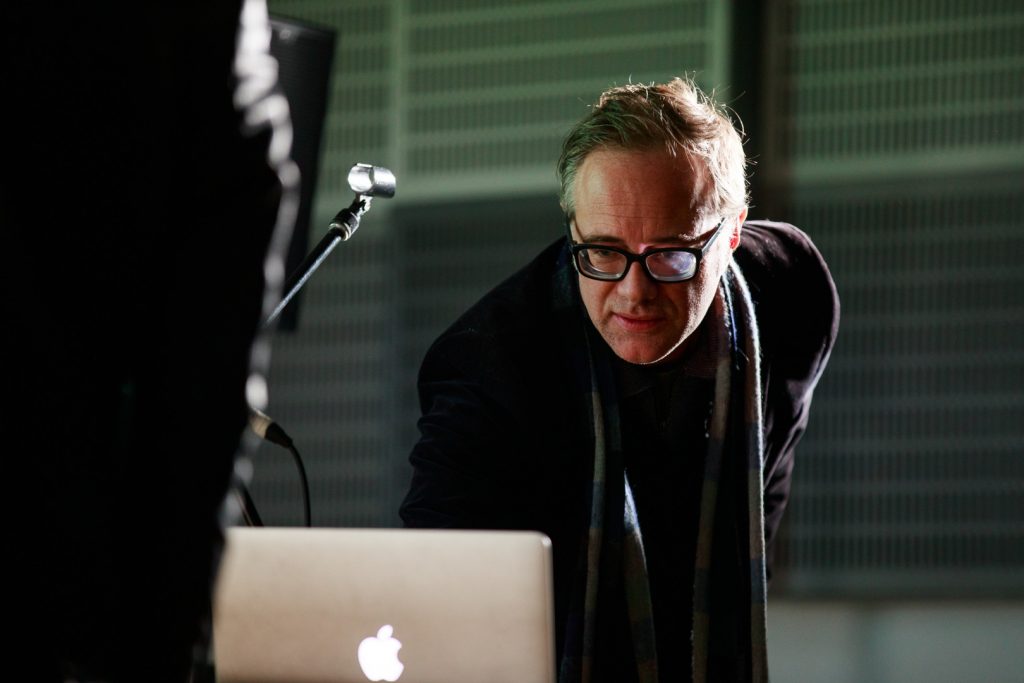 TEAM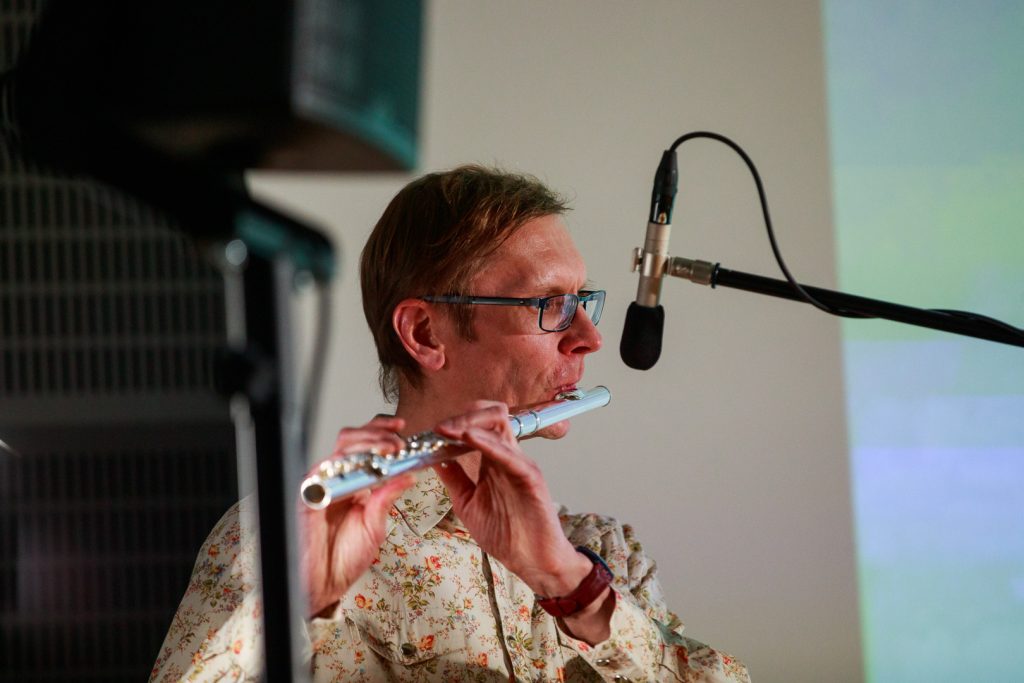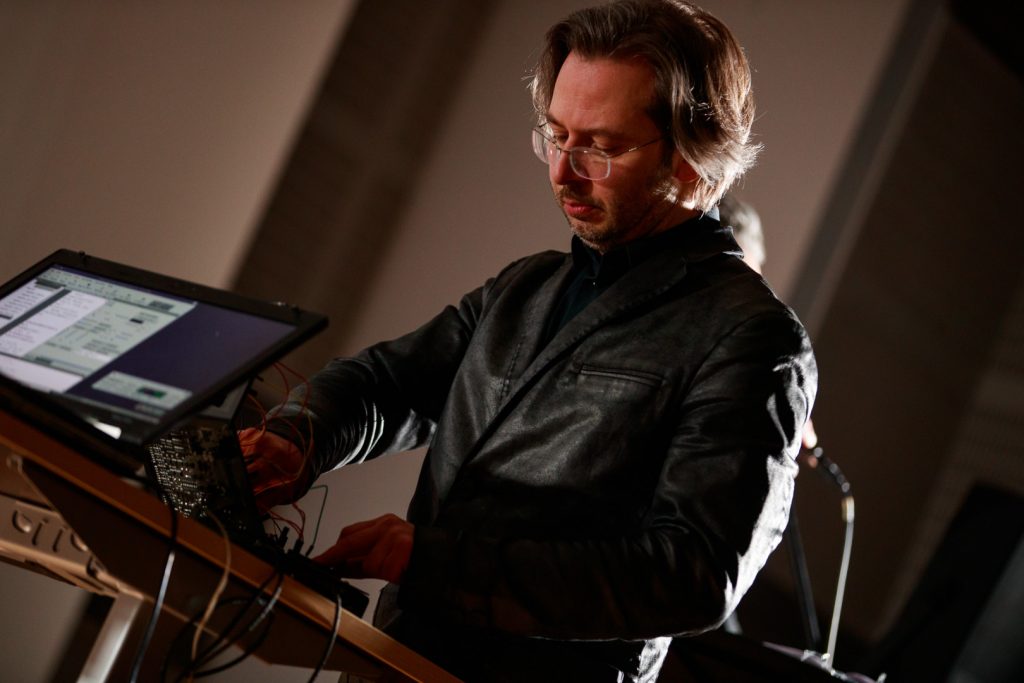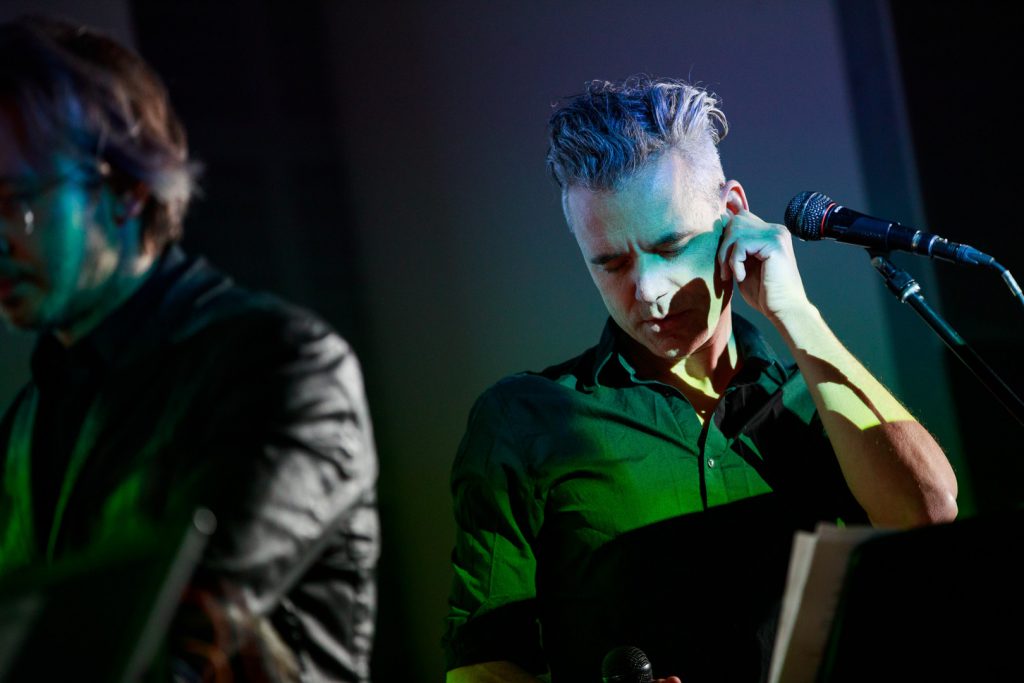 TEXT/CONCEPT/ARTISTIC DIRECTOR Thomas Cornelius Desi
MUSIC Ekke Västrik (analog electronics), Tarmo Johannes, Taavi Kerikmae (Electronics)
COSTUME Katharina Kappert
STAGE Aurel Lenfert
AUGMENTED REALITY DESIGN Peter Koger
LIGHT Vedran Mandic/Harald Michlits
TECHNICAL CONSULTANT ROBOT Peter Koger
SCRIPT ADVISER Walter Eckermann
CAMERA Jaako Taavili
ROBOT CONSULTATNT Dr. Johannes Braumann / UfG Linz
ROBOT MANUFACTURER KUKA D/AT
PRODUCTION MANAGMENT Stephan Werner
CAST: Gilbert Handler (Voice), Bibiana Nwobilo ("Mischa", Sopran)
_______________________
Robots are increasingly becoming part of everyday life. The uncanny, even the "uneasiness" about it, gives an idea of the changes society will face. How will "responsibility", "morality" and "unconsciousness" be grasped?
The project "DER 8E FILM" (The Eighth Film) takes a poetic approach to these questions in order to bring them closer to reality. Biographical themes from the life of the great Russian filmmaker Andreij Tarkovskij form the dramaturgical, narrative "material".
The situation of the play deals with the "locked-in" situation. In an artistic translation, the – quite uncomfortable – situation of the patient, who is completely motionless and "locked in", becomes the occasion for the use of a robot. The entanglement with narrative techniques in Tarkovski's films ("Dream Logic") is made usable for a musical theatre.
This project is a musical collaboration between the musicians Ekke Vestrik, Tarmo Johannes, Taavi Kerikmae from Tallinn (EE), who develop and play an electronic "sound track" according to a vocal and musical concept under the artistic direction of Thomas Cornelius Desi (AT).
DATES
11 December 2019, Workshop at Tallinn Arts Lab
12 December 2019, Atelier Performance, Tallinn
spring 2020, pre-production (Vienna)
premiere autumn 2020, ontour 20/21